Silicone Coolant Hose Kit, 1st Gen Nissan Xterra & Frontier (VG33E & VG33ER 3.3L) with 2" to 3" Body Lift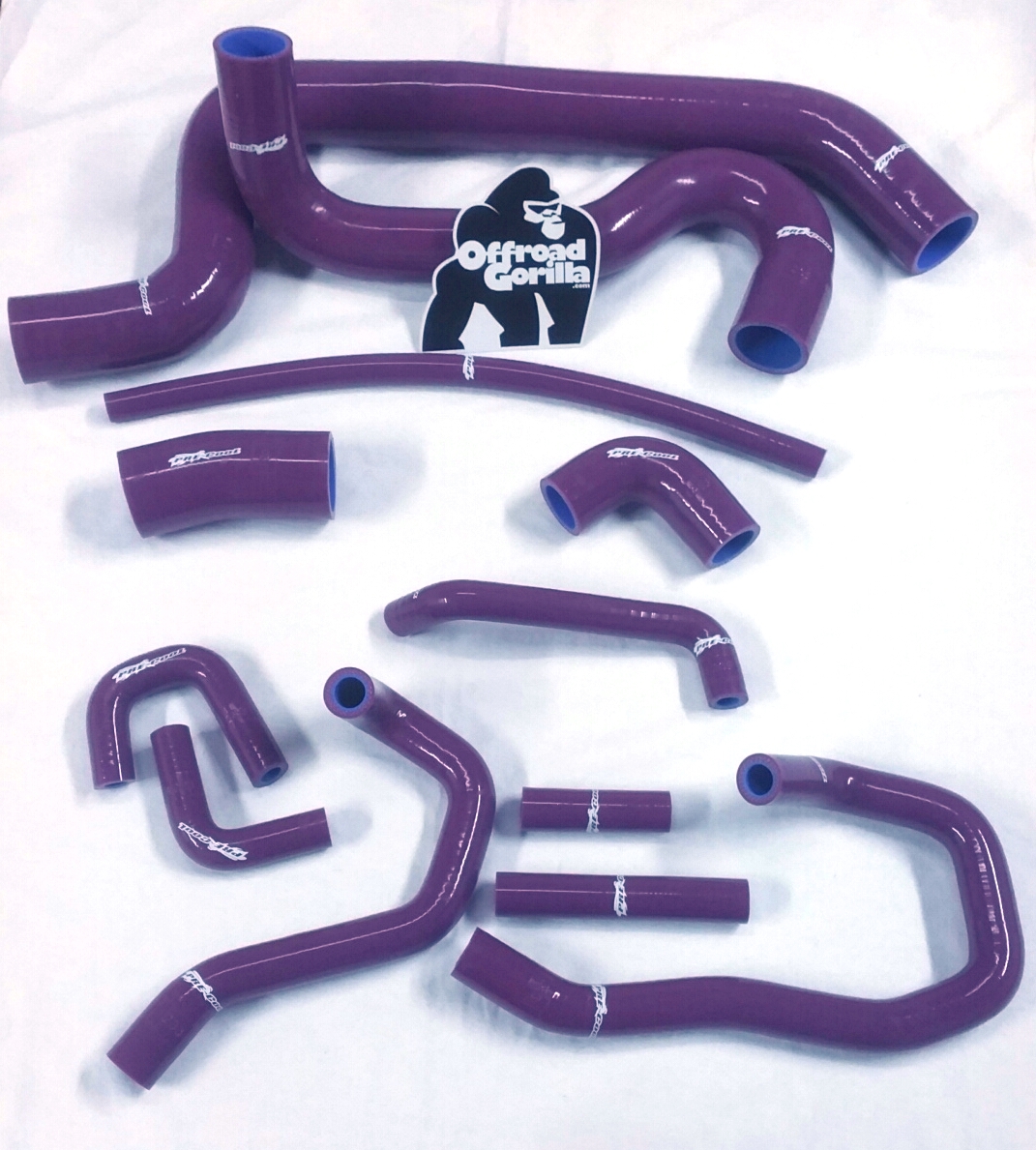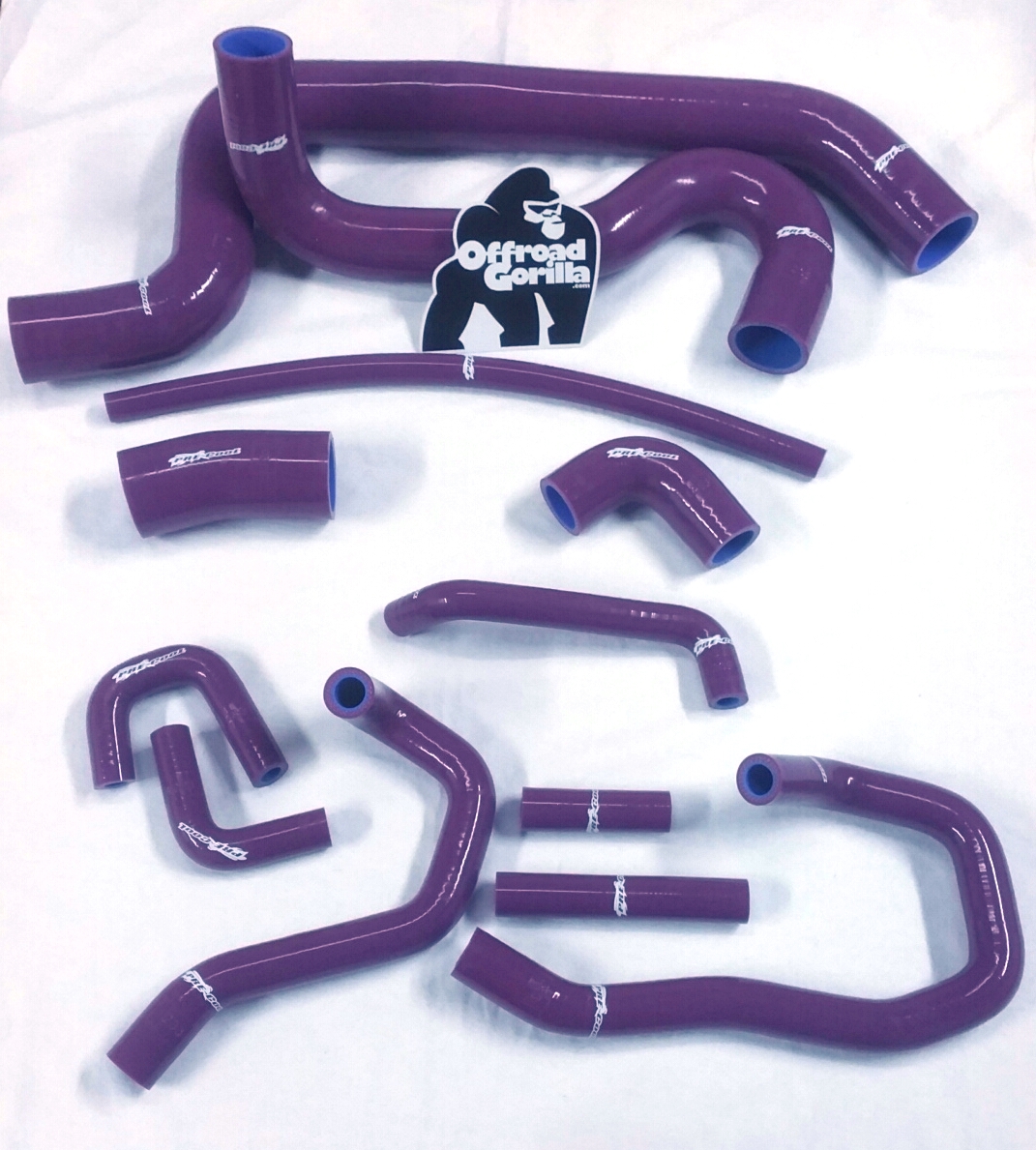 sold out
Silicone Coolant Hose Kit, 1st Gen Nissan Xterra & Frontier (VG33E & VG33ER 3.3L) with 2" to 3" Body Lift
Free Shipping on Everything We Sell!!
We do have some of these in stock but have decided to stop selling them due to the diameter being slightly too big (1.50" ID instead of 1.30" ID). If you would still like one please email us. sales@offroadgorilla.com
This hose set fits:
The following vehicles with a 2" to 3" body lift. This kit comes with a longer upper radiator hose. If you if you do not have a 2" or 3" body lift you should order our other VG33 OEM height hose kit.
'98 to '04 1st Gen Xterras and Frontiers with either a VG33E or VG33ER 3.3L engine, both super charger and none super charged versions. These are the standard engines in the USA.
Also fits:
96-00 Pathfinder.
96-04 Pathfinder Australia.
97-04 Infiniti QX4.
98-04 Frontier N/A.
01-04 Frontier Supercharged.
00-04 Xterra N/A.
02-04 Xterra Supercharged.
We also carry coolant hoses for: Nissan Titan VK56, Nissan Titan XD Cummins and Nissan Xterra, Frontier, Pathfinder 4.0L engines.
High Temp 3-ply Reinforced Silicone Complete Radiator Hose Kit
This PreCool kit is a direct replacement for your rubber OEM hoses.
Unlike Rubber hoses, PreCool hoses will not crack, stiffen or fail over time. Also PreCool silicone hoses offer a wider operational temperature range than rubber hoses. PreCool hoses are hand built using a multi-ply method, which enables them to withstand much higher operational pressures, then extruded hoses.
Stainless Steel Worm Clamps Included
Hoses have a Lifetime Manufacture Warranty
Available in 11 Colors (Blue, Black, Red, Green, Yellow, Orange, Dark Orange, Purple, Pink, White and Glow in the Dark Turquoise)
Catch Can Hose Option: Two 3' x 3/8" ID silicone hoses for a catch can setup. Hoses will color match your coolant hoses.
** Note: Your hoses will be made custom made and will take approximately ~6 weeks to be shipped out to you.
Do you have a 2-3" Body Lift?:
Hose Specifications-
Fire Retardant
Operational Temperature: -65F to 500F
Bursting Pressure: 245PSI
Wall Thickness, 3 Ply: 4.5mm

Hoses are manufactured from with Nomex® (Meta-Aramid) fabric reinforcement between all layers. Liner is made of fluorosilicone and fluorocarbon which ensures the hoses perform even under the most severe circumstances.
This set includes a longer upper rad hose that will need to be cut shorter to fit your body lift height. The lower rad hose is OEM length and may also need to be cut shorter to account for your body lift.
** Note: The upper and lower radiator hoses will need to be trimmed to fit your vehicle's specific height dimensions. The upper radiator body lift hose has a slightly over sized inner diameter but will seal properly with the provided band clamps.
** Note: Your hoses will be made custom made and will take approximately 6 weeks to be shipped out to you.
Due to the custom order nature of this product we cannot cancel your order once it has been place.
PO Box shipping addresses will incur a $10 shipping charge. An invoice will be emailed to you.